INCIDENCE OF VISCERAL LEISHMANIASIS AMONG PANCYTOPENIC PAEDIATRIC PATIENTS
Keywords:
Children, Pancytopenia, Visceral Leishmaniasis, Bone marrow biopsy, Leishmania donovani
Abstract
Background: Visceral leishmaniasis (VL) is a parasitic infection caused by Leishmania donovani. The sting of a sand-fly transmits Leishmania to humans. VL can lead to morbidity and even death if there is a delay in diagnosis. The objective of this study was to find out patients with visceral leishmaniasis presenting as pancytopenia in paediatric population. Methods: This single centre-cross sectional study was conducted for eight months in Paediatric Department, Ayub Medical Complex Hospital, Abbottabad. After taking informed written consent from all patients fulfilling the inclusion criteria, history was taken, detailed clinical examination done and bone marrow biopsy performed to check the Leishmania Donovani (LD) in the marrow sample. The findings were recorded and analysed. Results: Among 159 children presenting with pancytopenia, VL was confirmed in bone marrow biopsy report of 21 (13.2%) children, 100 children (62.9%) were males and 59 (37.1%) were females with the mean age of 5.58±3.44 years. Conclusion: VL is not an uncommon cause of pancytopenia in the paediatric population and should always be considered in the aetiology of pancytopenia in children especially those belonging to risky areas and if travel history is positive for the Mediterranean area. As the condition is treatable and has many complications that may lead to death if diagnosis is delayed, so workup and management done in time can actually save life of patient.
Pak J Physiol 2022;18(1):13?5
Downloads
Download data is not yet available.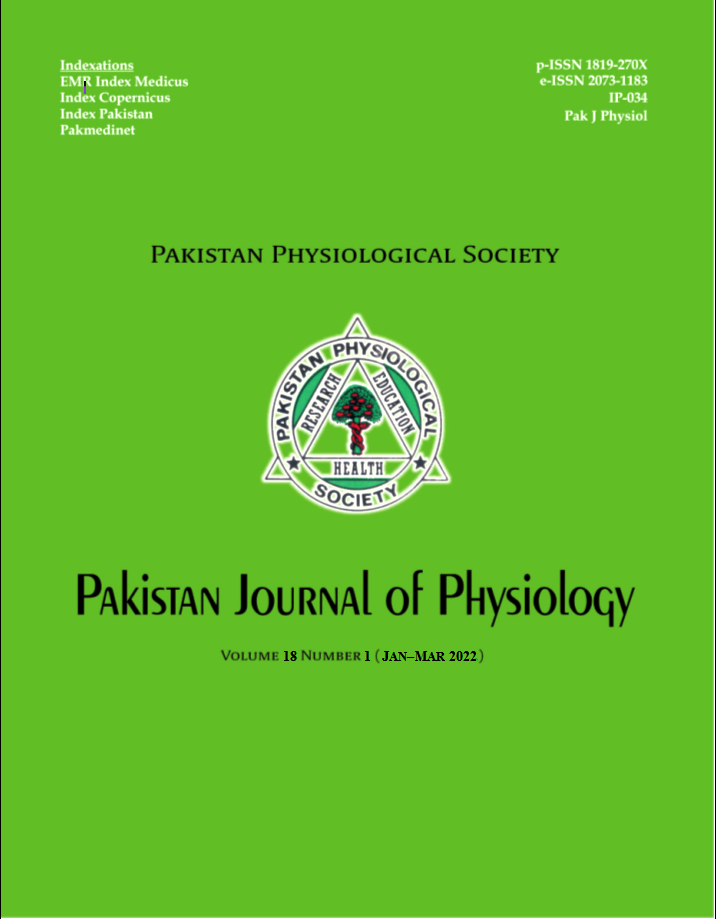 Downloads
How to Cite
1.
iqbal A, Qazi N- ul- ain, Gillani S, Hussain S, Raza MA, Ajmal J. INCIDENCE OF VISCERAL LEISHMANIASIS AMONG PANCYTOPENIC PAEDIATRIC PATIENTS. Pak J Phsyiol [Internet]. 2022 Mar. 31 [cited 2023 Dec. 4];18(1):13-5. Available from: https://pjp.pps.org.pk/index.php/PJP/article/view/1363
License
Pakistan Journal of Physiology, Pak J Physiol, PJP is FREE for research and academic purposes. It can be freely downloaded and stored, printed, presented, cited and quoted with full reference of, and acknowledgement to the PJP.