COMPARATIVE EFFECTS OF HIGH FAT AND CAGED CHICKEN DIET ON BODY WEIGHT GAIN IN ALBINO RATS
Keywords:
high fat diet, polycystic ovaries, caged chicken, Ovary, Steroid sex hormones
Abstract
Background: Consumption of high fat diet, caged chicken meat and sedentary lifestyle have seriously caused weight gain in developed countries resulting in hyperlipidemias and imbalance in the steroidal sex hormones ultimately. Objective of this study was to compare the effects of high fat and caged chicken diet on body weight of female albino rats. Methods: This randomized control trial was conducted in collaboration with National Institute of Health and Anatomy Department of Islamic International Medical College after approval from the Ethics Review Committee, from Sep 2021 to Sep 2022. This study was performed on 30 Albino Sprague Dawley adult female rats weighing 250–300 gm with no gross abnormality. They were divided into 3 equal groups of 10 rats in each group. Control group A was given standard rat diet. Experimental group B animals were given 60% fat while experimental group C animals were given cubes of caged chicken diet (20 gm/rat in the raw form orally) for 9 weeks. At the end of the experiment, animals were observed for relative body weight changes among groups. Result: The mean weight of the animals increased normally in control group A from 220 to 236 gm. Group B gained weight from 220 to 268 gm, and group C grew from 220 to 333 gm during 9 weeks. The weight gain was significantly higher in group C. Conclusion: Caged chicken diet as compared to high fat diet affects animals' weight more harmfully, and hence the health.
Pak J Physiol 2023;19(3):43–5
Downloads
Download data is not yet available.
References
Hilal G, Fatma T, Ferruh Y, Sabire G, Yüksel A. Effect of high-fat diet on the various morphological parameters of the ovary. Anat Cell Biol 2020;53(1):58–67.
Akram M, Roohi N. Endocrine correlates of polycystic ovary syndrome in Pakistani women. J Coll Physicians Surg Pak 2015;25(1):22–6.
Rostamtabar M, Esmaeilzadeh S, Tourani M, Rahmani A, Baee M, Shirafkan F, et al. Pathophysiological roles of chronic low‐grade inflammation mediators in polycystic ovary syndrome. J Cell Physiol 2021;236(2):824–38.
Zulfiqar S, Noor S, Rafique H, Rehman B, Babar A, Shahid T, et al. Investigation of prevalence and awareness of polycystic ovary syndrome among Pakistani females: Proceedings of the Pakistan Academy of Sciences: Part B. Life Environ Sci 2022;59(1):77–83.
Sidra S, Tariq MH, Farrukh MJ, Mohsin M. Evaluation of clinical manifestations, health risks, and quality of life among women with polycystic ovary syndrome. PLoS One 2019;14(10):e0223329.
Saara Ahmad. Observation of various blood biochemical changes and their effects on ovaries secondary to administration of various diets in female albino Wistar rats. (PhD Thesis). Baqi Medical University, Karachi, Pakistan; 2015.
You W, Henneberg M. Meat consumption providing a surplus energy in modern diet contributes to obesity prevalence: an ecological analysis. BMC Nutr 2016;2(1):22.
Ahmad S, Ahmed I, Haider S, Batool Z, Ahmed F, Tabassum S, et al. Effects of consumption of caged and un-caged chicken meat on ovarian health of female wistar rats. Pak J Zool 2018;50(2):487–93.
Rajan RK, Siva Salva Kumar M, Balaji B. Soy isoflavones exert beneficial effects on letrozole-induced rat polycystic ovary syndrome (PCOS) model through anti-androgenic mechanism. Pharm Biol 2017;55(1):242–51.
Sharma H, Zhang X, Dwivedi C. The effect of ghee (clarified butter) on serum lipid levels and microsomal lipid peroxidation. Ayu 2010;31(2):134–40.
Rocha AL, Oliveira FR, Azevedo RC, Silva VA, Peres TM, Candido AL, et al. Recent advances in the understanding and management of polycystic ovary syndrome. F1000Res 2019;8:F1000 Faculty Rev-565.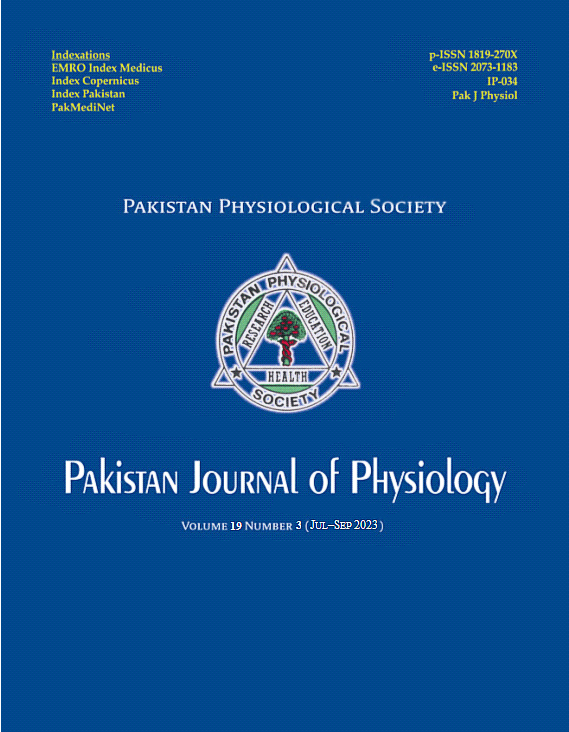 Downloads
How to Cite
1.
Kiran N, Beenish H, Hashmi TS, Mehmood M, Naheed K, Chaudhary ER. COMPARATIVE EFFECTS OF HIGH FAT AND CAGED CHICKEN DIET ON BODY WEIGHT GAIN IN ALBINO RATS. Pak J Phsyiol [Internet]. 2023 Sep. 30 [cited 2023 Dec. 5];19(3):43-5. Available from: https://pjp.pps.org.pk/index.php/PJP/article/view/1578
License
Pakistan Journal of Physiology, Pak J Physiol, PJP is FREE for research and academic purposes. It can be freely downloaded and stored, printed, presented, cited and quoted with full reference of, and acknowledgement to the PJP.