CORRELATION OF STATURE WITH MAXIMUM HEAD LENGTH OF MALE ADULTS OF UPPER PUNJAB
Keywords:
stature, head length, correlation, estimation, male adults, forensic, Punjab
Abstract
Background: In the field of forensic medicine, stature estimation in unknown skeletonized bodies is one of the most significant biological parameters. It is done many times when highly mutilated or decomposed bodies or fragmentary remains of skull are brought for forensic examination. The objective of this study was to correlate stature with maximum head length in male adults of 21–30 years in Upper Punjab. This study was designed to evaluate the effectiveness of correlation as a tool to predict relationship of stature from maximum length of head. Methods: This was a cross-sectional, quantitative study. Data was collected from the 382 males of Kharian City in Upper Punjab selected with non-probability, purposive sampling. Head measurements were taken using blunt ended spreading callipers and the stature of individual was measured standing erect in anatomical position using a stadiometer. SPSS-25 software was used for data analysis. Results: The mean stature was 170.4±6.85 Cm. Mean head length was 16.95±0.6 Cm. Prediction accuracy tests were performed which indicated that regression models of this study can estimate the height with accuracy. Conclusion: This study established a correlation between stature and maximum head length. It will help the forensic experts to estimate stature from measuring head length, especially when only head is available as a result of some natural or human caused calamity.
Pak J Physiol 2023;19(3):27–30
Downloads
Download data is not yet available.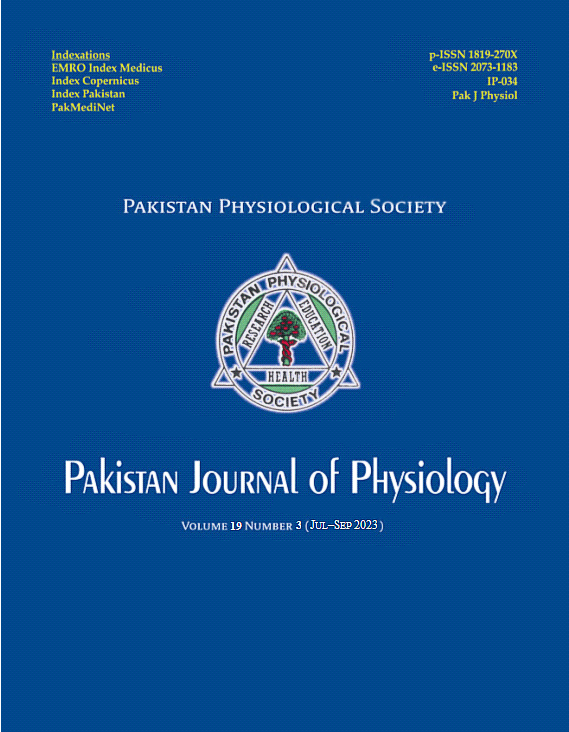 Downloads
How to Cite
1.
Bibi F, Butt US, Zain Z, Ahmed A, Zaheen U, Khattak A. CORRELATION OF STATURE WITH MAXIMUM HEAD LENGTH OF MALE ADULTS OF UPPER PUNJAB. Pak J Phsyiol [Internet]. 2023 Sep. 30 [cited 2023 Dec. 5];19(3):27-30. Available from: https://pjp.pps.org.pk/index.php/PJP/article/view/1573
License
Pakistan Journal of Physiology, Pak J Physiol, PJP is FREE for research and academic purposes. It can be freely downloaded and stored, printed, presented, cited and quoted with full reference of, and acknowledgement to the PJP.