CORRELATION AND PREVALENCE OF MEGALOBLASTIC ANAEMIA IN TYPE 2 DIABETIC PATIENTS USING METFORMIN
Keywords:
Diabetes Mellitus, Metformin, HbA1c, vitamin B12, megaloblastic anemia
Abstract
Background: Metformin is the most widely used drug in the management of type 2 diabetic patients but its use is associated with vitamin B12 deficiency induced megaloblastic anaemia. However few studies in Pakistan have assessed this risk. This study was conducted to determine correlation and prevalence of megaloblastic anaemia in type 2 diabetics treated with metformin. Methods: This cross-sectional study was carried out in the Department of Medicine, Hayatabad Medical Complex, Peshawar from Dec 2021 to Nov 2022. A total of 156 type 2 diabetic patients who were taking metformin at least for the last 2 years, were included in the study. All these patients were evaluated for anaemia, raised Mean Corpuscular Volume (MCV) and vitamin B12 levels. Results: Out of 156 patients who participated in the study, 94 (60.25%) were male and 62 (39.75%) were female with a mean age of 57.56±8.5 years. Mean duration of diabetes was 7.37±3.61 years, whereas mean duration of metformin use was 5.85±2.9 years. Vitamin B12 deficiency was identified in 51 (32.69%) patients. These B12 deficient patients demonstrated a mean Hb of 9.8±1.4 g/dL. Hyper-segmented neutrophils and raised MCV (mean MCV 98.7±6.90 fl was also identified in them. There was a no correlation between serum B12 levels and dose and duration of metformin. Conclusion: Long term metformin use is significantly associated with B12 deficiency associated megaloblastic anaemia.
Diabetes Mellitus, Metformin, HbA1C, Vitamin B12, Megaloblastic Anaemia
Pak J Physiol 2023;19(3):23–6
Downloads
Download data is not yet available.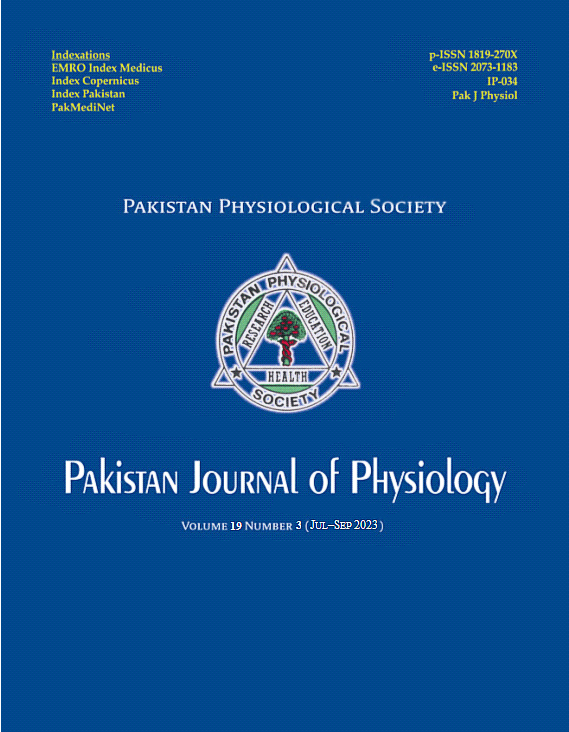 Downloads
How to Cite
1.
Farooq G, Humayun S, Ishfaq M, Hassan J, Khan R, Gul H. CORRELATION AND PREVALENCE OF MEGALOBLASTIC ANAEMIA IN TYPE 2 DIABETIC PATIENTS USING METFORMIN. Pak J Phsyiol [Internet]. 2023 Sep. 30 [cited 2023 Dec. 5];19(3):23-6. Available from: https://pjp.pps.org.pk/index.php/PJP/article/view/1565
License
Pakistan Journal of Physiology, Pak J Physiol, PJP is FREE for research and academic purposes. It can be freely downloaded and stored, printed, presented, cited and quoted with full reference of, and acknowledgement to the PJP.