RELATIONSHIP OF SLEEP QUALITY WITH MENTAL WELL-BEING AND ACADEMIC PRODUCTIVITY
Keywords:
depression, anxiety, sleep quality, medical students, academic performance
Abstract
Background: Better sleep quality is associated with better mental health. This study aimed to link sleep quality of medical students with their psychiatric health and academic performance. Methods: Sleep quality of 104 medical students (52 each from 1st and 5th year of MBBS with equal gender distribution) was measured on Pittsburgh Sleep Quality Index (PSQI) while Hamilton Depression Rating Scale (HDRS) along with Hamilton Anxiety Rating Scale (HAM-A) was used to assess their psychiatric health, both of which were later correlated with their academic scores. Results: Sleep quality of 1st year medical students was significantly better as compared to their final year counterparts (p=0.001) and (p=0.000) respectively which affected indices of psychiatric health in such a way that 1st year medical students scored significantly lower on scales of depression as well as anxiety as compared to final year medical students (p=0.001), (p=0.000) and (p=0.001, p=0.000). Within 1st and final year (male and female) medical students, sleep quality had a strong positive correlation with scores of depression and anxiety (r=0.547, p=0.004), (r=0.587, p=0.002), (r=0.66, p=0.000) ,(r=0.490, p=0.011) and (r=0.518, p=0.007), (r=0.527, p=0.006), (r=0.541, p=0.004), (r=0.596, p=0.001) respectively, which in turn had a negative correlation with academic performance of theirs (r=-0.400, p=0.043), (r=-0.614, p=0.001) and (r=-0.550, p=0.004), (r=-0.573, p=0.002) respectively. Conclusion:  Medical students with poor sleep quality, harbour higher degrees of depression and anxiety and perform poorly on academic front as compared to those with better sleep quality.
Pak J Physiol 2023;19(3):15–9
Downloads
Download data is not yet available.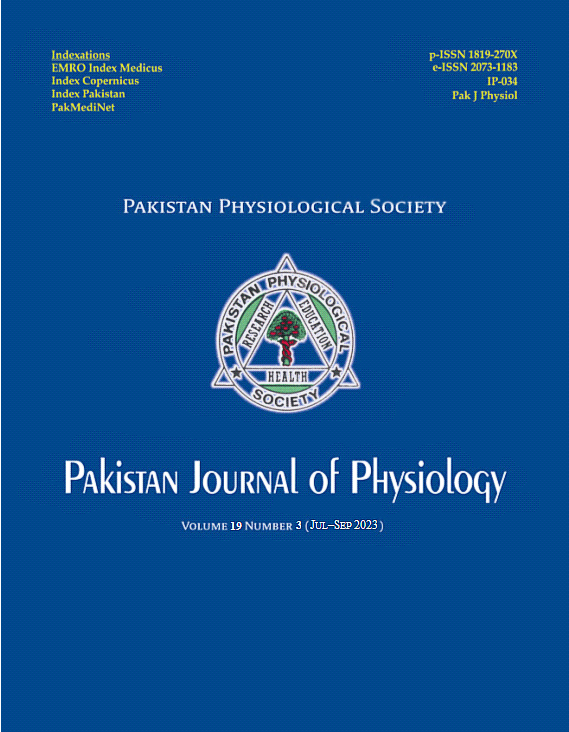 Downloads
How to Cite
1.
Hassan H, Muzammil M, Malik MT, Karim MA, Lodhi MA, Jamil U. RELATIONSHIP OF SLEEP QUALITY WITH MENTAL WELL-BEING AND ACADEMIC PRODUCTIVITY. Pak J Phsyiol [Internet]. 2023 Sep. 30 [cited 2023 Dec. 5];19(3):15-9. Available from: https://pjp.pps.org.pk/index.php/PJP/article/view/1551
License
Pakistan Journal of Physiology, Pak J Physiol, PJP is FREE for research and academic purposes. It can be freely downloaded and stored, printed, presented, cited and quoted with full reference of, and acknowledgement to the PJP.