PLATELET LYMPHOCYTE RATIO AS AN INFLAMMATORY MARKER IN RHEUMATOID ARTHRITIS
Keywords:
Platelet Lymphocyte Ratio (PLR), Rheumatoid Arthritis (RA), DAS-28 score
Abstract
Background: There is a marked difference in platelet lymphocyte ratio (PLR) between active patients of Rheumatoid Arthritis (RA) and controls. Our objective was to determine role of PLR as an inflammatory marker in RA. Methods: This study was conducted from Oct 2021 to Sep 2022. RA was defined according to the 2010 ACR Diagnostic Criteria for Rheumatoid Arthritis and disease severity was determined according to DAS-28 score. After approval from IRB 150 patients aged 21?80 years, diagnosed with RA were enrolled and divided into 2 groups as active disease (DAS-28 score ?3.2) and Low Disease Activity/Remission (DAS-28 score <3.2). Demographics, medical history, and clinical parameters of DAS-28 score and CBC including PLR were recorded. Results: 124 (82.7%) were female and 26 (17.3%) were male having mean age 42.8±14.4 years. Mean duration of disease was 8.5±6.9 years and mean ESR was 31.9±23.3 mm/1st hr. Mean VAS score, tender and swollen joint count, and DAS-28 score were 3.8±2.8, 4.2±4.0, 2.3±2.6 and 4.0±1.6 respectively. RA Factor was positive in 112 (74.7%) and Anti-CCP antibody was seen in 94 (62.7%). Mean haemoglobin level was 12.2±1.6 g/dl and anaemia was found in 43 (28.7%) patients. Mean platelet count and TLC were 356,560±99,102/mm3 and 8.9±2.7×109/L respectively. Mean PLR in LDA/remission group and active disease group were 149.5±82.6 and 202.8±92.8 respectively. High PLR was seen in 52 (69.3%) patients with active disease compared with 30 (40.0%) patients with LDA/remission (p<0.001). Conclusion: Raised Platelet Lymphocyte Ratio was more common in patients with active RA.
Pak J Physiol 2022;18(4):18–21
Downloads
Download data is not yet available.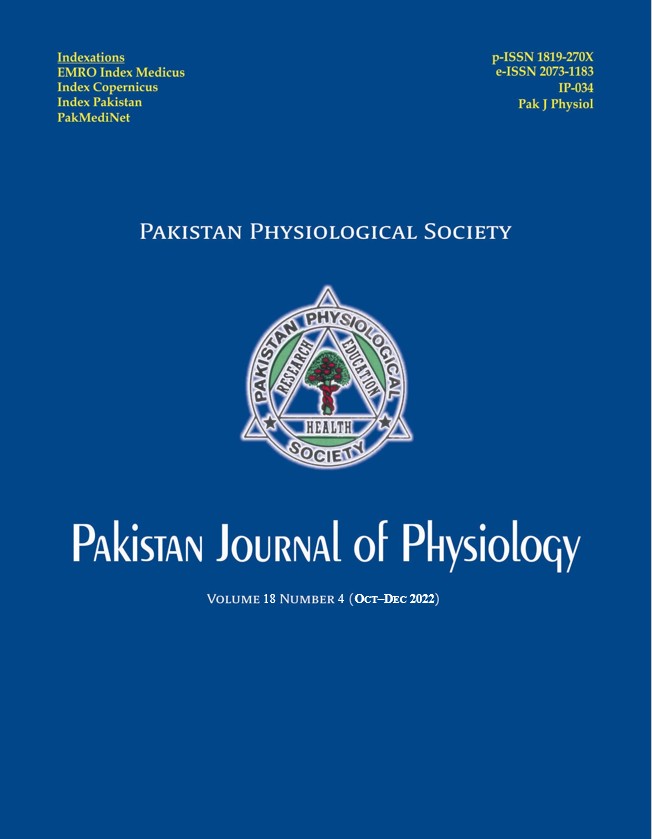 Downloads
How to Cite
1.
Butt NI, Anser A, Ashfaq F, Rasheed MB. PLATELET LYMPHOCYTE RATIO AS AN INFLAMMATORY MARKER IN RHEUMATOID ARTHRITIS. Pak J Phsyiol [Internet]. 2022 Dec. 31 [cited 2023 Dec. 4];18(4):18-21. Available from: https://pjp.pps.org.pk/index.php/PJP/article/view/1497
License
Pakistan Journal of Physiology, Pak J Physiol, PJP is FREE for research and academic purposes. It can be freely downloaded and stored, printed, presented, cited and quoted with full reference of, and acknowledgement to the PJP.