SERUM C REACTIVE PROTEIN AS AN INFLAMMATORY MARKER IN GESTATIONAL DIABETES MELLITUS
Keywords:
gestational diabetes mellitus, inflammation, C reactive protein
Abstract
Background: Gestational diabetes mellitus is the most prevalent metabolic disorder of pregnancy. A number of factors are implicated in its causation. Inflammation may play a role in development of diabetes. This study aimed to look for an association between serum C reactive protein and gestational diabetes mellitus. Methods: This cross-sectional analytical study was carried out at Physiology Department, Army Medical College in collaboration with Pak Emirates Military Hospital from July 2019 to March 2020. Thirty healthy pregnant females and 30 gestational diabetes mellitus patients with 24–32 weeks of gestation were selected. The diagnosis of gestational diabetes was made on the basis of abnormal glucose tolerance test according to International Association for Diabetes and Pregnancy Study Group (IADPSG) criteria. Blood samples were evaluated for serum CRP. Data were analyzed on SPSS-22. Data were expressed as mean and standard deviation. Comparison of data was performed using independent samples t-test. Pearson correlation coefficient was determined to find association between numerical variables. Results were considered significant at p?0.05. Results: Mean Serum C reactive protein level was significantly higher in gestational diabetes group compared with healthy control group and had significant positive correlation with plasma glucose levels as well as glycosylated haemoglobin. Conclusion: High CRP levels in GDM had positive correlation with blood sugar levels. Early diagnosis of inflammation with raised CRP level may be helpful in identifying the subjects at risk.
Pak J Physiol 2023;19(3):3–6
Downloads
Download data is not yet available.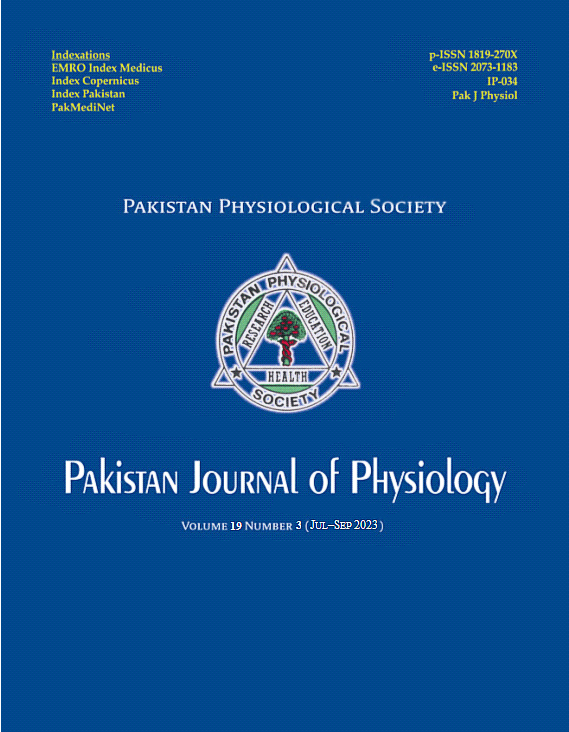 Downloads
How to Cite
1.
Naureen T, Riaz B, Mushtaq A, Shabbir E, Nadeem MS, Gohar L. SERUM C REACTIVE PROTEIN AS AN INFLAMMATORY MARKER IN GESTATIONAL DIABETES MELLITUS. Pak J Phsyiol [Internet]. 2023 Sep. 30 [cited 2023 Dec. 5];19(3):3-6. Available from: https://pjp.pps.org.pk/index.php/PJP/article/view/1452
License
Pakistan Journal of Physiology, Pak J Physiol, PJP is FREE for research and academic purposes. It can be freely downloaded and stored, printed, presented, cited and quoted with full reference of, and acknowledgement to the PJP.