DERMATOGLYPHICS ASSOCIATION WITH CRIMINAL INTENT
Keywords:
finger printing, criminals, finger print patterns, dermatoglyphics, criminal intent
Abstract
Background: The researches carried out on various type of human behaviour showed that it has been impacted upon by genetic as well as environment components. The aggressive behaviour having intent of criminality is also governed by both environmental and genetic makeup. Here we have analysed and explored environmental factors. Methods: Samples from 100 convicted criminals and 100 from general population were taken with simple convenient sampling, after obtaining informed consent and maintaining strict confidentiality. Fingerprints of both left and right thumb were taken on ten print cards. The environmental element was checked by studying association of any specific fingerprint pattern with the criminal intent. Right thumb of offenders was compared with that of normal population. Results: It became cleared that number of loop pattern was high in normal population, i.e., 60% as compared to 44% of offenders. The arch pattern was 9% in general population and 2% in offenders. The whorls were high in offenders 54%, as compared to 32% in general population. The statistical analysis of right hand was performed by chi square test and the p=0.002, statistically significant. Left thumb showed no significant differences between the two groups. Conclusion: This study reveals the association of dermatoglyphics with criminal intent. The right hand can be a significant tool in scrutinizing criminals on large scale.
Pak J Physiol 2021;17(2):35–7
Downloads
Download data is not yet available.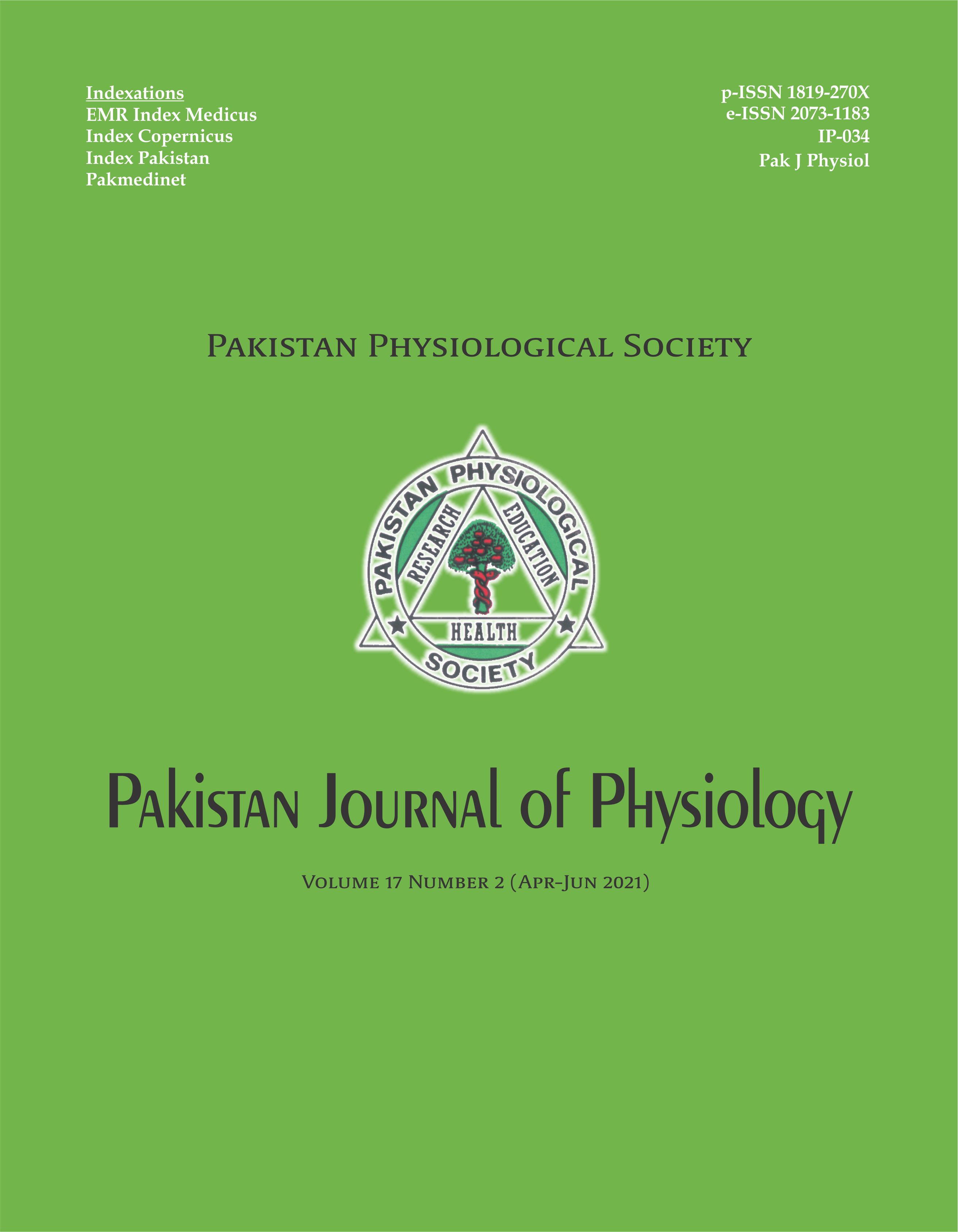 Downloads
How to Cite
1.
Butt US, Iqbal A, Akhtar N, Qazi S, Ali Z, Rahman RA. DERMATOGLYPHICS ASSOCIATION WITH CRIMINAL INTENT. Pak J Phsyiol [Internet]. 2021 Jun. 30 [cited 2023 Dec. 5];17(2):35-7. Available from: https://pjp.pps.org.pk/index.php/PJP/article/view/1341
License
Pakistan Journal of Physiology, Pak J Physiol, PJP is FREE for research and academic purposes. It can be freely downloaded and stored, printed, presented, cited and quoted with full reference of, and acknowledgement to the PJP.