RISK FACTORS AND PARENTS' ATTITUDE FOR CHILDREN PRESENTING WITH ASTHMA AT A TERTIARY CARE HOSPITAL
Keywords:
asthma, risk factors, myths, childhood
Abstract
Background: Asthma is commonly prevalent disease in children. There has been increasing prevalence and incidence of asthma in children in last few decades. Risk factors and parent's attitude towards therapy matters in management. The objective was to assess the risk factors and parents' attitude for children presenting with asthma. Methods: This cross sectional study was done at Ayub Teaching Hospital, Abbottabad. History was taken about risk factors and associated myths. Duration of asthma, visits per year to clinic/hospital, tobacco smoke exposure, pets, fur toys, wood/coal burning, carpets in rooms, perfumes/powder use was documented. Parents' attitude towards use of spacer and inhaler was documented with specific questionnaire. Data was analysed using SPSS-20 and p<0.05 was taken as significant. Results: There were 136 patients, 93 (68.4%) males and 43 (31.6%) females. Mean age was 7.3±3.13 years. Most (80.1%) patients were <10 years old. Patient visits per year ranged from 2 to 15 visits with mean of 5.97±3.02 visits per year. Intermittent asthma was seen in 8.8% and persistent asthma was seen in 66.9% patients. The most common risk factor was use of perfume in 48.5% and family history in 65.4% patients. Parents' misconception towards inhaler use was noted in 38.2% patients. Younger children are at more risk of having asthma symptoms with exposure to wood/coal smoke and perfume powder exposure (p=0.04). Conclusion: Family history of asthma with perfume/powder exposure and wood/coal smoke exposure are major risk factors in children. Parents' misconception is a hurdle to timely management. 
Pak J Physiol 2022;18(2):54–7
Downloads
Download data is not yet available.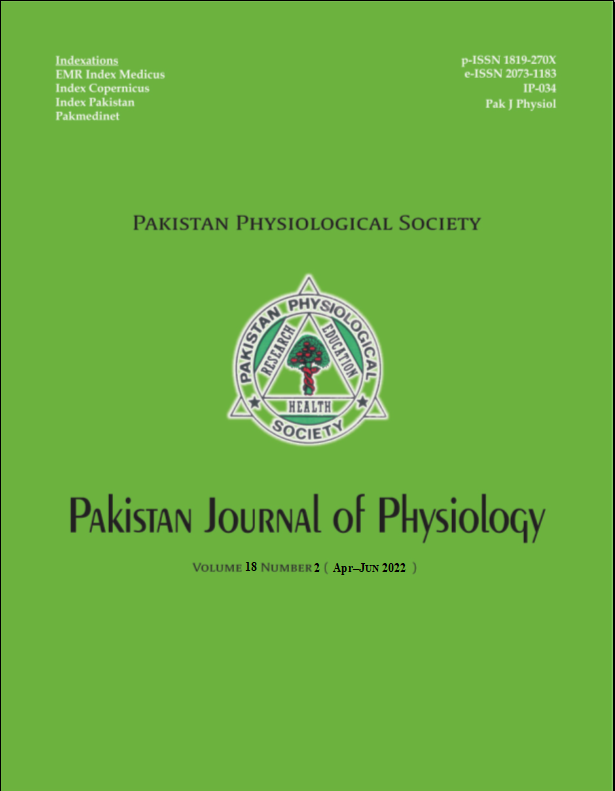 Downloads
How to Cite
1.
Shah SH, Najeeb S, Aalia B, Raza MA, Muhammad K, Abbasi MA. RISK FACTORS AND PARENTS' ATTITUDE FOR CHILDREN PRESENTING WITH ASTHMA AT A TERTIARY CARE HOSPITAL. Pak J Phsyiol [Internet]. 2022 Jun. 30 [cited 2023 Dec. 5];18(2):54-7. Available from: https://pjp.pps.org.pk/index.php/PJP/article/view/1230
License
Pakistan Journal of Physiology, Pak J Physiol, PJP is FREE for research and academic purposes. It can be freely downloaded and stored, printed, presented, cited and quoted with full reference of, and acknowledgement to the PJP.